Institutional Banking
Create Your Own Story


Debt Consolidation
with an SBLOC
Debt can be a major point of conflict for clients who want control of their finances.
In a volatile market, cash flow can often be difficult to predict, and that uncertainty can lead to trouble for clients who have multiple loans or large payments due. This can seem overwhelming to manage, but financial professionals can work with their clients to guide them down a more manageable path by leveraging client assets.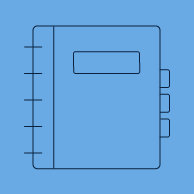 SBLOC:
A Streamlined Solution
---
When paying off debt seems like a gargantuan feat, there is an option for clients to make this monster a lot more tamable through a Securities-Backed Line of Credit (SBLOC). Rather than borrowing more money from a bank or other financial institution and adding more debt to pay another off, an SBLOC offers clients the opportunity to take out a loan based on the cash value of their own assets. Through this solution, clients can borrow up to 95% of their portfolio value based on asset type and open an interest-only line of credit.1 Compared to conventional loans, an SBLOC can provide more favorable terms and offers variable and fixed interest rates.
Most importantly, an SBLOC through The Bancorp Institutional Banking offers clients flexibility, which can feel like a breath of fresh air when dealing with stifling debt. Clients have the option to convert variable rates to fixed rates through a simple application process.2 This offers another opportunity to make payments more manageable so clients can continue to focus on their wealth management goals.
Recently, a client had a commercial loan with another financial institution that was maturing with a $600K balloon payment due. The client recently chose to downsize their business, decreasing the usual cash flow, so they were unable to qualify for traditional financing to renew the loan and avoid the large balloon payment.
1/2
Buffering Debt in Business Transitions
3
When faced with liquidating assets to make the payment, the client was able to find an alternative option through an SBLOC. The Bancorp Institutional Banking team was able to leverage an investment account to extend a line of credit that helped the client lower their monthly payment, offered flexibility, and helped cash flow during a transition time in the business.
2/2
Moving Forward from Debt
---
The SBLOC can help clients managing debt open a new chapter in their wealth management story. By leveraging nonretirement assets in their portfolio, financial professionals can work with their clients to take control of their finances once again. With no application fees and a streamlined application process, clients can access capital quickly to help consolidate payments and manage other expenses to help preserve and grow their wealth.4,5
By offering innovative lending solutions, The Bancorp Institutional Banking helps financial professionals provide options that make sense for their clients based on their liquidity needs and overall wealth management strategy. Whether that means taking out an SBLOC or leveraging an eligible life insurance policy through an Insurance-Backed Line of Credit, we work to help clients feel confident creating their own stories.
Opinions, findings, or perspectives contained in this blog are those of the authors.
All references to "The Bancorp" refer to The Bancorp Bank, N.A., the wholly-owned subsidiary of The Bancorp, Inc.

1. The 95% advance rate is for an all-cash portfolio.

2. No fee is associated when clients adjust from variable rate to fixed rate. Clients looking to adjust from a fixed rate to a variable rate will be charged a one-time $500 fee.

3. This case study of an actual client experience shows a potential use of the Securities-Backed Line of Credit (SBLOC). Individual borrower's results may differ based upon multiple variable circumstances and factors, including, but not limited to: tax and other liabilities, SBLOC borrowing rates, and portfolio drawing power. The SBLOC is a nonpurpose loan, the proceeds of which cannot be used for the purchase of securities or to refinance a loan used to purchase securities.

4. The SBLOC cannot be used to purchase additional securities or to pay off a margin loan that was used to purchase securities.

5. The Bancorp Bank, N.A. does not charge an application fee. State, local, and/or third-party fees may apply in some states.

Collateral-based borrowing may not be suitable for everyone. Consult a financial advisor about any associated risks. Consult a tax advisor for tax-related matters and an attorney for legal matters. The Bancorp Bank, N.A. does not provide financial, tax, or legal advice. Rates, terms, and conditions of loan products are subject to change without notice.
SBLOC
Securities Based Loan
Securities Based Lending
Portfolio Line of Credit
Debt Consolidation